ISS Group is a Premier  IT Developer and Implementer of Business Process Improvement (BPI) Solutions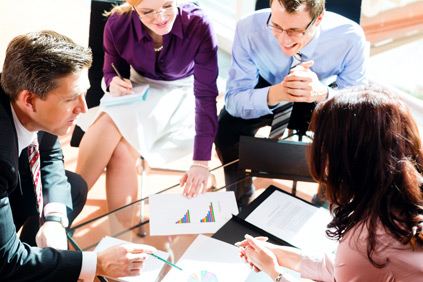 ISS Group delivers solutions which digitize business processes to connect people and processes via the cloud, mobile devices, and social networks, for Mid-market and Divisions of Fortune 1000 Manufacturing and Distribution organizations.
ISS Group has developed a proprietary development and implementation methodology named Process Digitization™ to transform business processes from the old and slower 20th century way of operating a business (Analog) into the new and faster 21st century way of operating a business in real-time (Digital). This innovative methodology transforms business processes to leverage current technologies, including the Internet (or Cloud), Mobile Devices, Social Media, and Rules-based Approval Routing and Workflow technology. By utilizing these technologies, connectivity between people and business processes are significantly improved affording ISS Group's Clients bottom line benefits such as:
Global Process Standardization
Reduced Process Cycle Time
Improved Process Visibility/Tracking
Implementation of Process Controls
Elimination of Paper Forms
Improved Workflow Productivity
History
ISS Group started operations in 1987 with the philosophy of offering 'Big 6 Accounting Firm' IT consulting services at Mid-market consulting rates. From 1987 through 1999 ISS Group was focused on implementing various 3rd party Enterprise Resource Planning (ERP) applications for Mid-market Manufacturers and Wholesale Distributors within the Automotive, Industrial/Electronic, Medical Device and Consumer Goods markets, including services such as installation and configuration of the ERP application, customization of the application, training, project management, and on-going maintenance and support.
In 1989, ISS Group became an Application Solutions Partner (ASP) with Progress Software Corporation (NASDAQ:PRGS) and began selling and implementing Progress based ERP applications. ISS Group remains a Progress ASP to this day and has developed their proprietary technologies and solutions based on the Progress technologies.
In 1996, while ISS Group was selling and implementing the QAD, Inc. (NASDAQ:QADA) ERP application, ISS Group created an IT solutions development tool named eFramework™ to facilitate the web-enabling of Progress based software applications. Using this tool, working together with QAD, ISS Group developed QAD's first eCommerce module named 'MFG/PRO on the Web; Trading Partner Transactions' (TPT). The TPT solution was a Customer facing self-service web application providing functionality such as Order Entry, Order Status Inquiry, Stock Status Inquiry, Pricing and Inventory Availability, and many other MFG/PRO functions, providing QAD end-user organizations the ability to provide their Customers a channel to transact business with them in real-time via the Internet. The TPT solution was extremely successful and implemented in many of QAD's largest end-user organizations such as Ingersoll Rand, GE, J&J, Eaton, Remy International, and Tyco, to name just a few.
In 2001, building on the experience of providing a Customer self-service eCommerce application, TPT, ISS Group transitioned from selling and implementing ERP applications to selling and implementing Customer Relationship Management (CRM) applications, and became one of Microsoft's first CRM resellers within the U.S. ISS Group continued to sell and implement the TPT solution and started selling and implementing the Microsoft CRM application to the QAD community. To facilitate the integration between QAD's MFG/PRO application and the Microsoft CRM application, ISS Group developed an integration solution named iBridge™, which afforded real-time data transfer between the applications.
In 2004, ISS Group working with one of their Clients expanded their solutions portfolio to offer Supply side functionality for purchasing of indirect material. The new solution was originally named 'MRO Purchasing' and has subsequently been re-branded as iPurchase®. As part of this solution, ISS Group developed a rules-based approval routing engine for the purpose of routing a PO Requisition throughout an organization for review, possible revision, and approval in order to create a Purchase Order. ISS Group has branded the approval routing engine as AART™, Advanced Approval Routing Technology.
In 2008, ISS Group expanded their solutions portfolio yet again to offer a Customer Sales Quoting application named iQuote™. The iQuote™ solution also included the AART™ technology, allowing for a Customer Sales Quote to be routed throughout an organization for various reasons, including pricing, product management, and discount approval, prior to the quote being sent to the Customer.
In 2011, ISS Group re-wrote their eFramework™ development tool (created to develop the TPT application in 1996) to utilize the latest web 2.0 technologies, as well as to incorporate the ISS Group AART™ technology. ISS Group re-branded the eFramework™ tool which is now named iFramework™. Combining the two technologies (AART™ + iFramework™) provided ISS Group with an opportunity to introduce a new solution into their portfolio named iApprove™, for the approval routing and workflow of any process/request executed within an organization requiring multiple people to perform an activity as part of the process/request.
In 2012, adding integrated front-end functionality to the iPurchase® solution, iRFQ™ was developed as the newest addition to the ISS Group BPI solutions portfolio.
In 2014, ISS Group trademarked their proprietary BPI solutions development and implementation methodology and branded it as Process Digitization™.
In 2016, ISS Group teamed-up with Easy Access, a leader in AP Automation, and developed our latest addition to our BPI suite of solutions, iVoucher™, a Supplier invoice reconciliation solution integrated with QAD Enterprise Applications. Along with our iPurchase® solution, we can now offer an integrated, robust, end-to-end Procure-to-Pay solution.